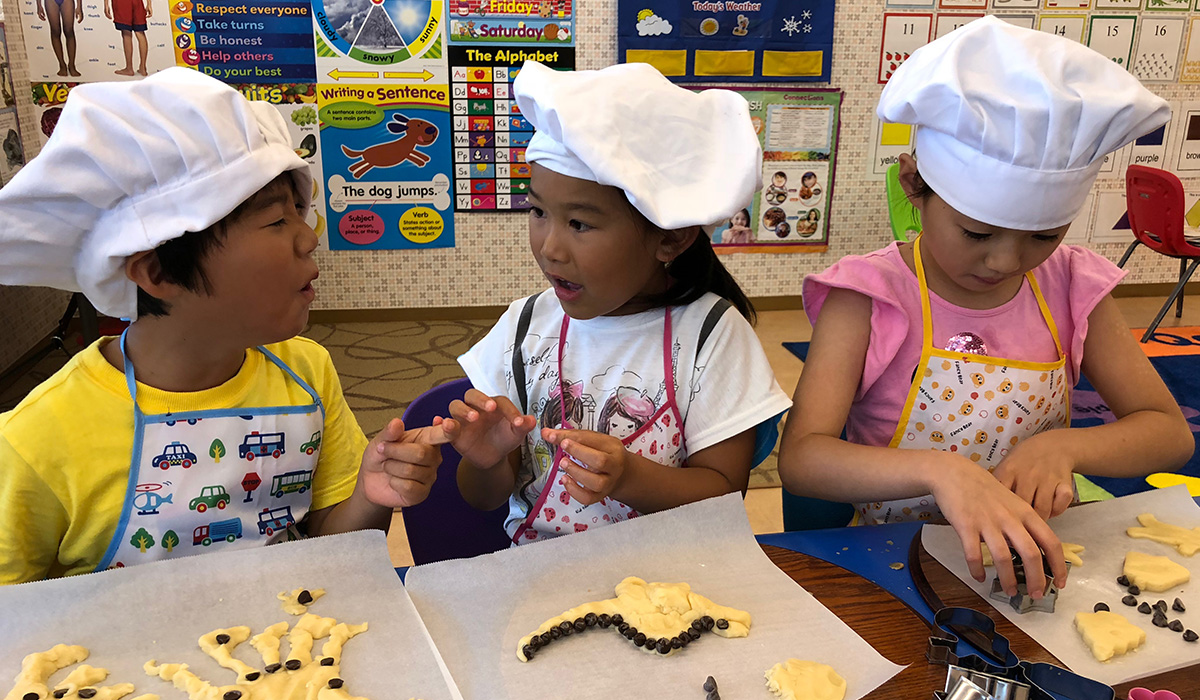 ---
Looking for fun, interactive and educational activities for your children during the holiday? If you're a busy parent or you're simply looking for ways to teach your kids that learning can be fun, our holiday (spring, summer, winter) -exclusive programs are the perfect solution.
We offer holiday enrichment program where your child can learn through fun activities over the spring, summer and winter months. Holidays are a great time to acquire new skills and hands-on experience while having tons of fun.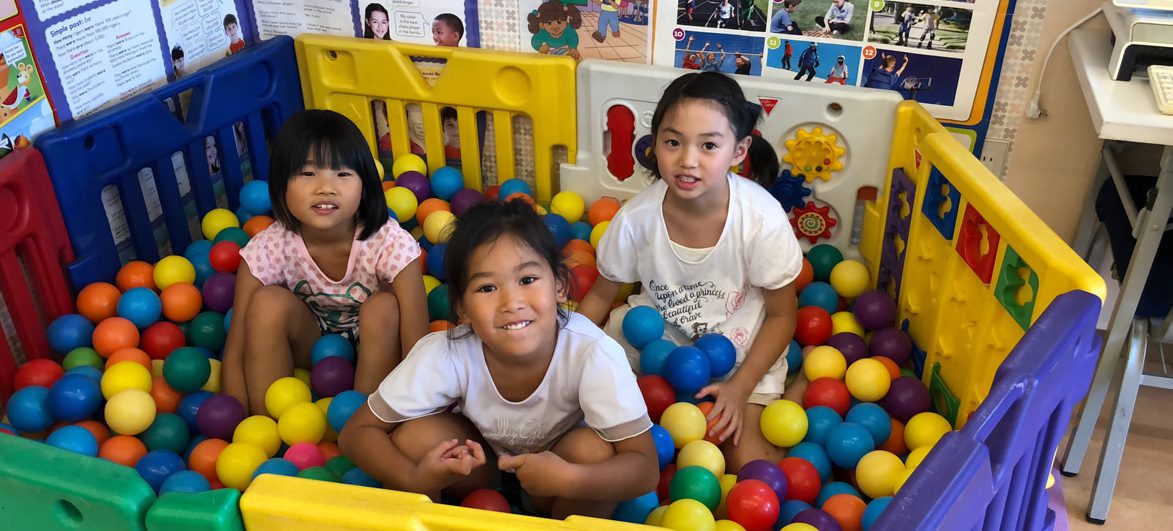 Holiday Program
Age : 3-12 years
Time : Mon.~Fri. 9:30~14:00
Details : For details and fees, please contact us directly. TEL:0120-970-250
Time Table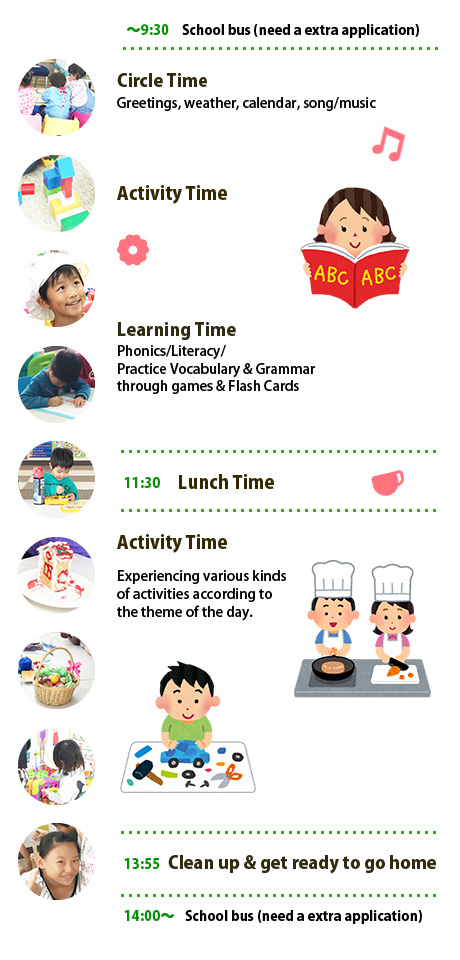 ---
Introduction of each program
Spring School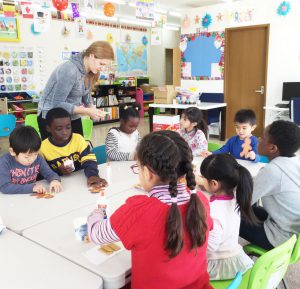 Spring is in the air!
Spring is the most delightful season, we love spring so much!
Spring is a great time to have fun and enjoy learning new things!
Spring into spring with lots of beautiful flowers, crafts and rainbow colors, "April showers bring May flowers." This saying reminds us that rain helps flowers to grow. It also helps vegetables and other plants to grow. Rain is very important. Without it our rivers and lakes would be empty and we wouldn't have enough water to drink.
In spring, the earth warms significantly, causing new plant growth to spring forth, giving the season its name. Spring is a time to fly kites, to enjoy colorful rainbows, and to celebrate the birth of baby animals.
Every year the earth rotates one time around the sun. Help children learn about the organization of this time into days, weeks, and months with this theme on the calendar. Fun children activities and ideas to incorporate into morning circle time, songs, movement, literacy activities, and games are all included.
We're offering your child the chance to experience fun and exciting way to speak English fast during the 2 weeks spring holiday. Our learning environment is carefully and thoughtfully designed to encourage opportunities for creative investigation and exploration. We encourage children to make new discoveries, actively pursue their interest, ask questions, solve problems and develop a lifelong love of excitement for learning!
Summer School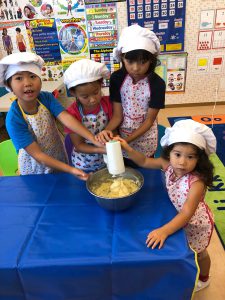 We're offering a summer enrichment program where your child can learn through fun activities over the summer months. The summer program will cover a 6 week period with each week having an original theme. We offer an approach that integrates many learning areas while maintaining flexible and manageable structure.
We promote natural learning approach such as allowing learning to flow with the child's interests and natural curiosity about life.
These special holiday programs promise to keep the little ones entertained and equipped them with new skills, plus a new friend or two, over the holidays.
The holiday program will cover a 1-6 week period with each week having an original theme. Each week focuses on a different theme explored through language and culture.
The full-day program is open to children aged 2 to 12 and focuses on lots of fun holiday activities that are both educational and creative. Through various themed activities changing weekly and running from two to six full weeks, children will be able to make new friends and expand their horizons in an exciting and creative environment. Parents can sign up their children for one, two, three, four, and five or six weeks — whatever fits your interest and family's schedule best. The program is guided by the school's international teaching staff
We offer an approach that integrates many learning areas while maintaining flexible and manageable structure. We promote natural learning approach such as allowing learning to flow with the child's interests and natural curiosity about life.
We strives toward developing an internationally-minded person who demonstrates the attributes concepts, skills, knowledge, attitudes and action that gives students the opportunity to take an active role in their learning.
Children have a fantastic time learning to communicate in English as they enjoy a balanced mixture of phonics, drill, flashcards, reading, writing, listening, speaking, art and craft and educational videos. Our classroom integrates the principles of 21st-century education and learning skills; creativity, critically thinking, communication and collaboration. A focus on creativity, critical thinking, communication and collaboration is essential to prepare students for the future!
Bringing the world into the classroom and promoting global connections
Taking our students out into the world beyond the classroom.
Creating opportunities for students to interact with each other and work collaboratively.
Creating authentic learning experiences for students, including the use of technology.
Tour of the World
Come and explore the world without even leaving Tokyo! Join us as we travel and experience Italy, Africa, US, Europe, China and Hawaii. Enjoy sampling each country's food, language and music as we take an unforgettable journey around the world!
It is widely recognized that English is the world's lingua franca. English is used internationally as the language for science, technology, business, trade, tourism, diplomacy, and global problem solving. Our children will grow up to become global citizen; they must be exposed to real-world content that helps them understand other people and cultures. Their increased understanding of the world and their ability to communicate in English across cultures will help them be better prepared to actively and successfully participate in the world of the future.
Cultural Connections
It's also important to connect children to their home cultures in the English Language classroom. Making connections to the local culture will help children relate to the contents and build a stronger understanding of themselves and their place in the world. In addition, learning to express aspects of their own culture in English is another step toward effectively using English as a global language. Heritage International School Summer Program helps children appreciate their own culture and encourages them to keep their culture strong.
Global Citizenship
Learning about the world, through theme-based teaching benefits young learners, as different topics provide informational structure and a meaningful basis for exploration through a variety of language learning tasks. Learning is enriched through activities that expand knowledge of the world and its cultures, people, and places. Addressing the needs of the whole child in the language class includes attention to learning styles, learning strategies, critical thinking skills, 21st century skills, and universal cultural values.
Winter School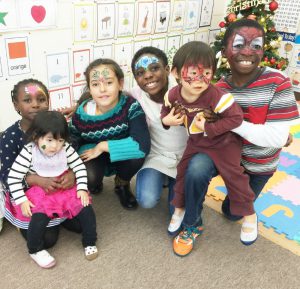 We understand that your busy work schedule doesn't stop during your child's vacation and enrolling your son or daughter in our winter school offers you and your child a sense of continuity – extending the engaging, fun learning environment they enjoy during preschool, kindergarten, after school or Saturday school through Christmas vacation.
Our regular international preschool, kindergarten, and after school schedule ends in second week of December and will be followed by our Christmas party and Winter Wonder Weeks program which kicks off on the following Monday and runs through until the last Friday in December.
We've planned 2 weeks of fun filled holiday learning adventure and can't wait to share it with you all. Both exciting weeks will be immersed with stories of the North Pole, Christmas story, polar animals, decorations, card making, Christmas cooking, songs, stories and a whole lot more. Everyday will be full of fun and open to all children.
The winter holiday season is one of the happiest times of year for children and holiday crafts and storytelling are an important part of our winter school curriculum.
At Heritage International School we value the sense of play that is central to social interaction and the explorative aspects of development and children enrolled in winter school are empowered to learn, grow and discover in a safe, positive and joyful environment.
At Heritage International School we develop activities which engage your child mentally, physically and offer a fun, creative outlet so that when you pick up your child at the end of the day they can't wait to tell you about everything they learned.
Our winter school program offers parents the flexibility to maintain this sense of excitement and discovery year-round.
Here at Heritage International School we know that your child's safety is your top priority and that's one of the reasons we chose our friendly neighborhood. At our international English school your child is part of a fun, immersive international education environment, growing socially and developing cross-cultural language skills during each exciting day in our winter school.
☆Non-FHIS Students are also welcome to our Holiday Program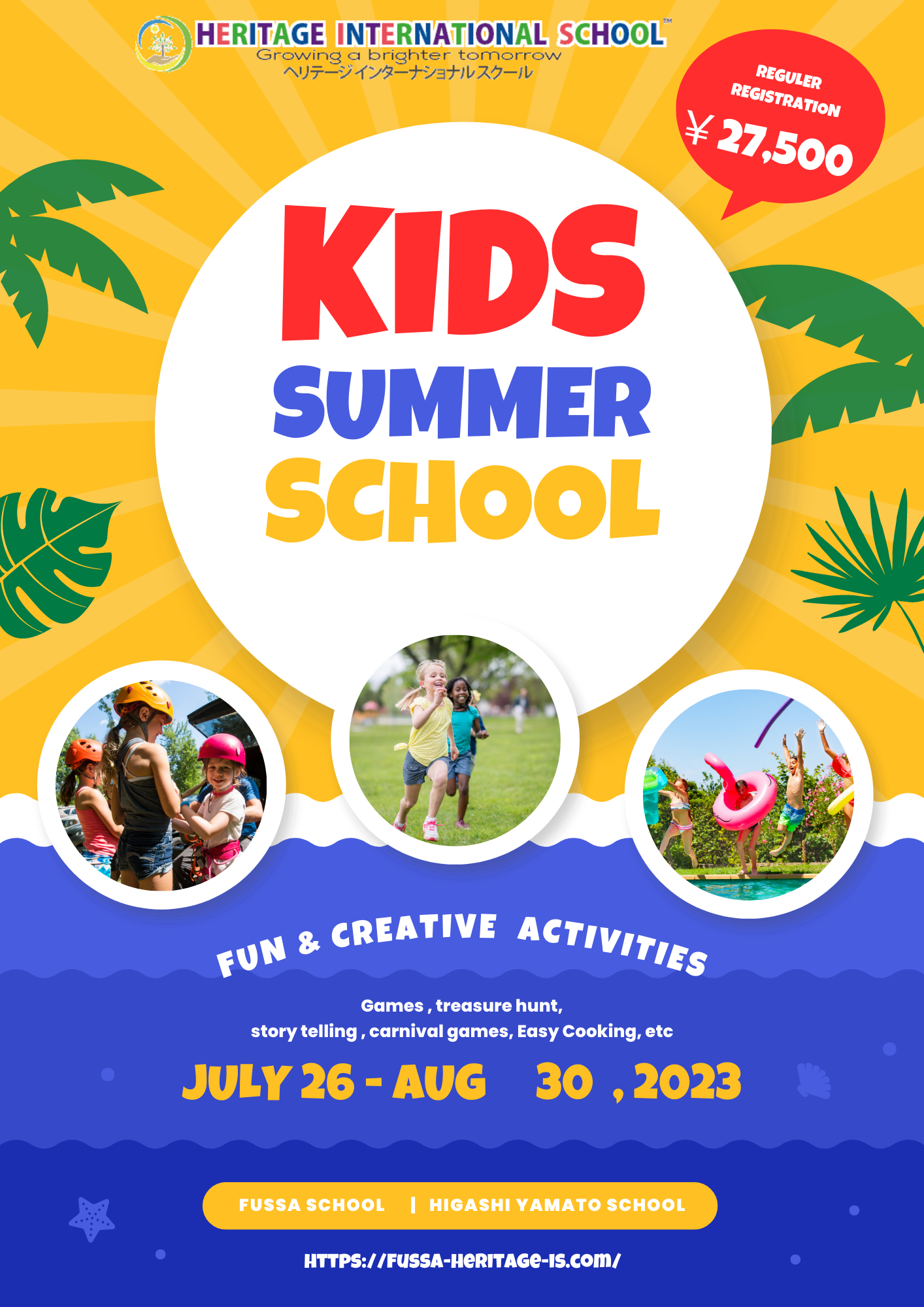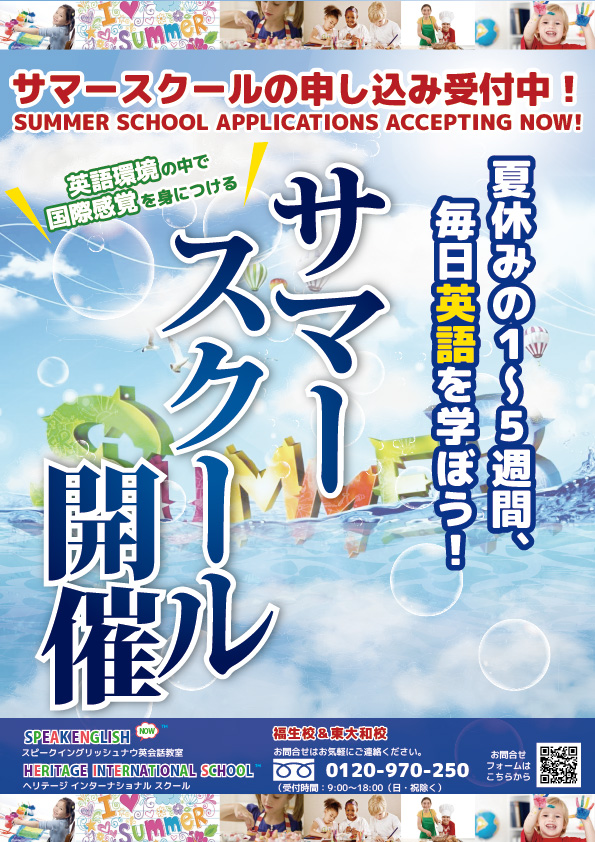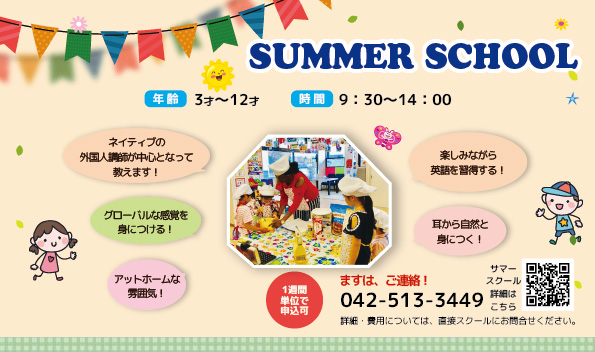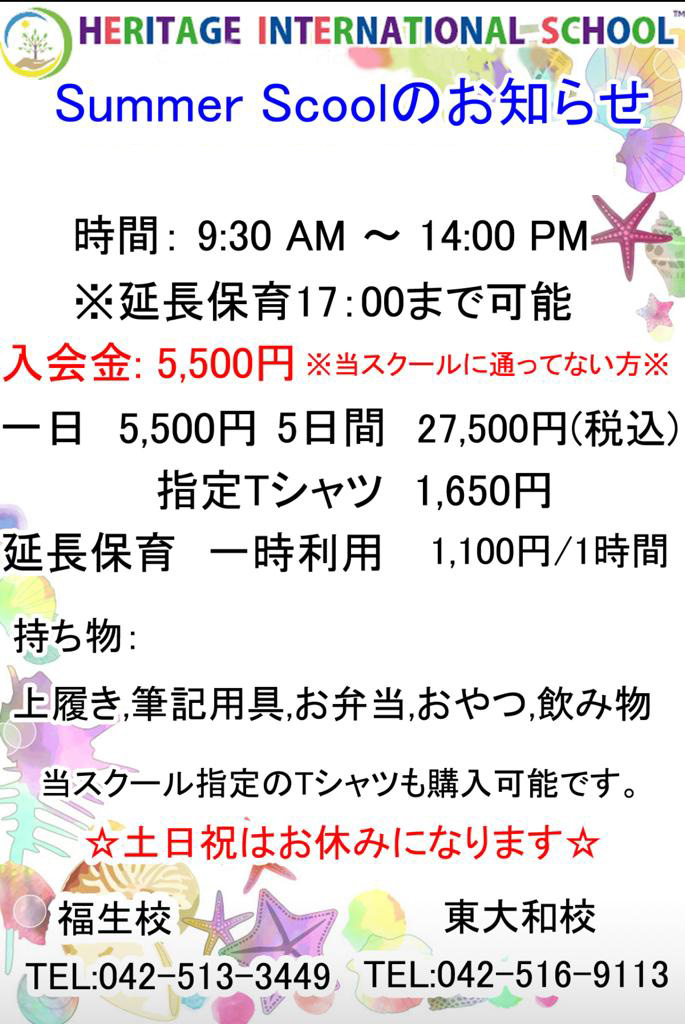 Summer School 2023
皆さん、こんにちは!
2023年サマースクールのお知らせです!
本年度サマースクールプログラムは、7月26日(水)に始まり、8月30日(水)まで開催されます。
私たちは、5週間の楽しい学習アドベンチャーを計画し、皆さんと共有するのが待ち遠しいです。
ヘリテージ・インターナショナル・スクールでは、3歳から12歳までの子どもたちを対象に、楽しくてエキサイティングなサマースクールを開催しています。
少人数制のクラスです。詳細は下記ウェブサイトをご覧の上、今すぐご応募ください。
お子様のヘリテージインターナショナルスクールサマープログラムへのご参加をお待ちしております。
開催日
7月26日(水)~8月30日(水)
時間
9:30 AM ~ 14:00 PM(17:00まで延長保育可能)
★延長保育 一時利用
※14:00-17:00  1,100円/1時間
入会金
5,500円※当スクールに通ってない方
指定Tシャツ
1,650円
対象年齢
3-12才
レッスン料
27,500円 (5日間)
5,500円(1日)
持ち物
上履き,筆記用具,お弁当,おやつ,飲み物
当スクール指定のTシャツも購入可能です。
費用
*費用や詳細については、スクールにお問い合わせください。
申込方法
お電話下さい 042-513-3449 / 042-513-3459(福生・羽村)
042-516-9113. (東大和)
夏休みを利用して、ネイティブスピーカーの先生達と英語に触れあってみませんか?
新しいお友達もたくさんできちゃいます。
英語が全く話せなくても大丈夫です♪
個人レベルに合わせ授業を進めさせていただきます。
先生も日本語が喋れますので、授業についていけないという事態には発展しません。
グローバル社会になっている今、英語は今後の課題になっていきます。
夏休みを利用し、英語の楽しさに触れ合っていただければ幸いでございます
ヘリテージ・インターナショナル・スクール
スピークイングリッシュナウ英会話教室
〒205-0022東京都羽村市双葉町2丁目9‐7
〒207-0015 東京都東大和市中央4丁目1043−44
電話:042-513-3449 / 042-513-3459(福生・羽村)
電話:042-516-9113. (東大和)
Eメール: info@fussa-heritage-is.jp
Eメール: info@ speakenglishnow.jp
https://fussa-heritage-is.com/holiday-program/
http://fussa-heritage-is.jp/
https://speakenglishnow.jp/holiday-program/
See the Pictures of Holiday Program
Taken During the Classes…